1935 Australian Jamboree
Displays

2nd - 5th January 1935
(Display Arena)
During the afternoons, cultural and historical displays took place. The pageants, presented by the different contingents, were diverse: some serious, others hilarious and ingenious. The variety is illustrated by the following selection.

Mass formation and movement by the entire New South Wales contingent (nearly 2,000 Scouts) depicted different aspects of Scout work. Each group performed their act and then moved around the arena so that their display was presented to a different audience. This pageant included a traditional Yorkshire sword dance. Its intricate and rhythmic movements were executed magnificently. The performance ended with a spectacular mass formation.

The eleven Nauruans, in their striking lava-lavas, performed some of their native dances and songs. They clustered round their drum, chanting softly in unison until three of their number leapt out to beat time with their heels and wave their arms in a swinging rhythm. The tempo increased to a frenzy and culminated in a final joyous yell.

Northcote and Preston District acknowledged Melbourne's centenary: "Batman purchases the site of Melbourne". Pageant organisers carefully researched this event and, also, the corroboree dances of the aboriginal people. The first part of the enactment portrayed a meeting, at the corroboree ground, between Batman's party and the aborigines. The bright red scarves of the explorers were in stark contrast with the black bodies of the lithe aborigines. The second act depicted the sale of land to white man. Batman met the Chiefs and read the deed of sale. All signed. The aborigines rejoiced on receipt of their gifts.

The Indians gave a display of chekar-wheel and lathi swinging. Both Hindu and Mohammedan dances were given interspersed with singing. Lathi and sword, two lathis at once, and even swinging the lathi while standing on stilts, seemed nothing to these polished performers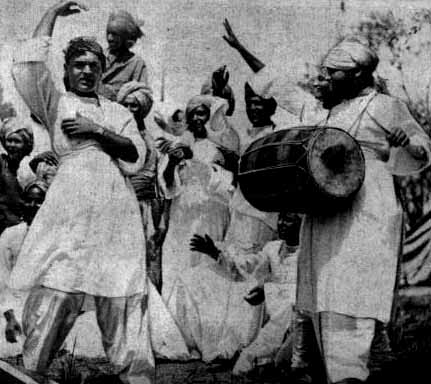 Bendigo's colourful history was portrayed in their enactment, "early mining days". The discovery of gold by prospectors and the hasty erection of shops were just the beginning. The noise, the bustle and the frequent quarrels were all faithfully reproduced. Excitement reached fever pitch with the hold-up of a Cobb and Co. coach and the subsequent pursuit of the bushrangers.

The New Zealand contingent of 200 Scouts depicted scenes from traditional Maori life - complete with broadcast commentary. The men hunted for meas and pigs; the women were involved with various crafts and "tangi" (feast) preparations. The hunters returned with their spoils and were greeted by the women. They all helped with preparations for the feast. The sudden appearance of a rival tribe illustrated another side of Maori life. War hakas took place and a tribal battle ensued. After the return of the victors more hakas and songs were enacted.

The Malayan contingent of 48 Scouts reproduced a village scene. The act centred round a "Singkeh" or newcomer. The story relayed his experiences with the local people as he rode around the village in a rickshaw. In order to present a faithful reproduction, the Malayans brought with them rickshaws, four types of hawkers' stalls, palm and bamboo huts and native costumes.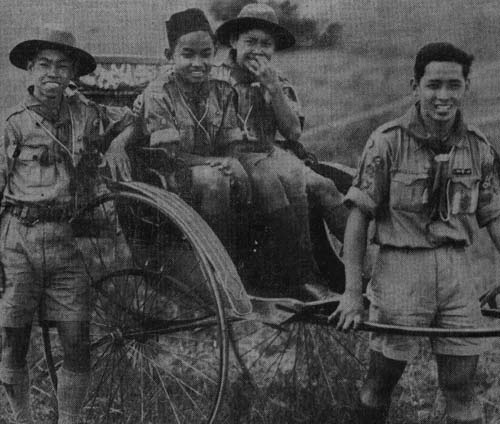 Caulfield District, as part of their act, presented a "Frankston Jamboree Steeplechase". The participants carried out the part of highly trained racehorses. The event concluded with the presentation of a gold-mounted whip to the winner.

Gippsland presented "Cavalcade of Transport". The parade commenced with aboriginal hunters, pioneers and prospectors - some on foot, some on horseback. The dray, Cobb and Co. coach, horsemen and a lady riding sidesaddle came later. Next came a daring young man on a motor-bike. A lovely lady rode in the side-car. It is hard to believe that he deliberately ejected her from the pillion seat! Finally came Colonel Cohen's Rolls Royce! (Col. Cohen was the President of the Victorian Branch of the Boy Scout's Association).