Don Charlwood
Don Charlwood was born in Hawthorn, Victoria, in 1915 and moved with his parents to Frankston in 1923. He was invested into the 1st Frankston troop in 1927, but transferred soon after to 2nd Frankston, "Church of St. Paul."

Unable to get employment during the economic depression, he accepted an invitation to work during the shearing and harvesting of 1934 on a relation's property at Nareen in western Victoria. This move led him to transfer to the 1st Victorian Lone Rovers.

Fortunately Don was able to attend the Jamboree and camp with his Frankston friends. Don had two articles published in the Jamboree Daily: This is Frankston, 28 December was followed by Frankston Boys View The Changing Scene, included in the next day's edition.

Don is the author of eleven books including No Moon Tonight (1956), based on his experience with World War II Bomber Command, and All the Green Year (1965), which has been drawn from his boyhood experiences in Frankston. Don's books are still in print.



The Jamboree Hikes and Rover Moot
6 - 13 January 1935
Sunday 6th January

This morning the sky was still overcast, and at about 10 o'clock I went by bus up to the site. I picked up my tent, which had been drying in the dining shelter, & also my cape-groundsheet & then departed for hike rations, leaving my old camp knife among the missing.

Outside a big marquee were the hundreds of boys who were either game, mad, mugs, or foolhardy enough to go on the hikes. (I am writing this after the hikes, so I know what I'm saying). I stood with Les Bartlett & Ian Hay among a strange group of fellows that composed our party. I heard them give their names to a fine looking Rover - our leader - & as they gave names I wondered if we would be such strangers at the end of four short days.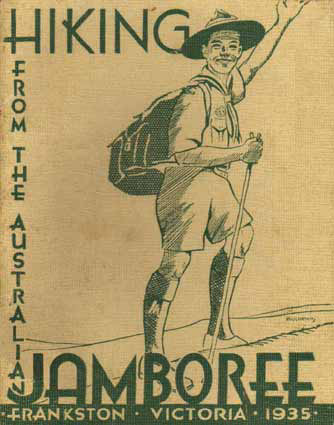 We were given about 12 pounds of rations each, which was a last straw to our packs. I suppose we now had in the region of 35 pounds each. At about midday we upped packs, & started for the station. I found that walk hard enough & wondered over what was to come. Anyway, we got to the station, & caught a special train to Lilydale via Flinders Street.

At Lilydale we changed into a steam train - now quite acquainted with one another. Our party & another went right on to Warburton. The Yarra was flooded, & looked unpleasant. At Warburton we were taken 5 miles to our night camping spot at Braham's Creek - where it joins the Yarra.

The trip was made in a big parlour car. We passed through the little Warburton township and just outside the town, we could see the devastating work done by the recent floods. In places the road was unsafe. We joined the Woods Point Road (after buying films & chocolates in Warburton) & saw a sign saying that we travelled on this road at our own risk. At a rickety looking bridge was another notice which said that the bridge was unsafe for heavy loads and our bus, with forty boys, was certainly heavy. We got across safely.

Braham's Creek is a really beautiful spot for a camp, & hike tents arose everywhere while wood crackled & smoke curled lazily among the trees. Laughter & talking echoed about, & the deep note of the turbid Yarra chimed in occasionally. We were on the eve of a big adventure.

Ian Hay & I decided to share my tent, whilst Les Bartlett had to sleep out on the remains of some previous camper's bush bed - wire netting. Our patrol was ideal, for we had 3 very fine, & very experienced, Fullarton Rovers from South Australia. I was pleased to notice that they sang in harmony, & one kept breaking out with, "I am a pirate king, and it is, it is a glorious thing to be a pirate king". We had a campfire, & after a moment for silent prayer we went off to bed on very damp ground - of course we were well protected by my ground sheet.

Monday 7th January

We were astir this morning at 6-30, & by 8-30 there was not a sign that there had been a camp; everything was on our backs. We had washed in the swirling old Yarra, & after a prayer round the ashes of last night's fire our party of forty divided into two - we twenty were no. 6.

In charge of us all was Ian Lillie. Second to him was Lindsay Collins, whip of the party. The former wore a red arm-band with the number I on it in green; & the latter had a similar number II. Next came Allan Doery, who carried the general ambulance kit - a big extra weight. He wore a number III on his arm.

We were divided into 3 patrols, the Bogongs, Baw Baws & the Buffaloes. Our patrol was the first named, & was headed by Cecil Lapthorne of 1st Fullarton Rovers. He in turn chose a second - Mervyn Hall I think - also of Fullarton Rovers. I was made whip of the patrol. The other members were John Potter, of 1st Fullarton Rovers, & Ian & Les.

Off we went at a good pace. We climbed about 2000 feet in under two miles. Figures can't convey what an effort it was for us chaps, who were out of training. We passed through very ordinary forest country, along a firebreak. We went between tall bracken. We had a couple of fine views of timbered mountains, but little energy to admire them. Soon after 11-00 we halted for 2 hours at an old deserted mill. I took off my boots and sox during dinner. Just as we finished another party passed us. They had the two South Africans among them, & also a couple of English boys.

The afternoon's walk was certainly easier; but most of it was spent in recovering from the morning's climb. We passed through very pretty country with wonderful fern gullies, & now there was plenty of conversation between us. We struck a snake, which was speedily despatched. During a rest along a timber line, a timber tram (a queer looking contraption) passed us. It was on its way from Warburton to Starvation Creek & was loaded with stores, passengers, both male & female - some of the latter with young children in arms. They were almost pioneers.

Soon after that meeting we turned to our right, down a steep, long disused timber line, which finally brought us to our night's camping place - another old deserted mill. Les, Ian & I were going to sleep out; but finally decided on a disused hut. There was a very pretty creek close by, and we had a good tea. There was plenty of sawn & unwanted timber for a campfire, & although tired we had a good evening.

Lindsay Collins taught us a negro spiritual - "Oh! The debil am mad", and the Fullarton Rovers sang perfectly in harmony - a real treat. "Tipperary", "A Long Long Trail" and many others echoed over the darkened forest, & then we closed with the first verse of "Abide with Me", followed by prayers, & a silence for "private devotion". It was all very simple & impressive, & soon after we slept on the bracken-softened floor of the old hut, a fire glowing in the fireplace.

Tuesday 8th January

Today, as far as scenery was concerned, was a treat. We joined up with our same old timber track, passed Mt. Bride on our right; & then crossed Big Pat's' Creek by a log, & turned sharp left by a couple of houses - I don't know whose they could have been, miles from anywhere. We were close to Big Pat's Creek for some time, & then stopped where it swung close to the line. Here we drank, killed a snake, & - above all - rested. We kept on through deep alleys of undergrowth and trees, passing here a man clearing undergrowth, & soon after, a tall viaduct. On the viaduct we rested, high above the valley where the undergrowth had been thinned out, apparently as a firebreak. With our packs as pillows we lay flat out & said little, until Ian Lillie broke in with his usual, "Packs up boys", from which there was no escape.

For lunch we halted at a very pretty, and apparently nameless creek. We fed on pork German & hard bread biscuits. Hard bread biscuits had many remarks passed about them. "Hard" was right, but where "bread" and "biscuits" came in was hard to fathom. However, we soon acquired a taste for them & ate them with relish - we'd have eaten anything I think - even though we'd thrown them at one another on the first day in the train.

This afternoon we struck another very stiff climb. After dinner we entered a tunnel of bracken fern and other undergrowth, and walked along ancient timber lines. For quite a long while we walked in a cutting, with dank earthen walls close on each side &, for some time, a creek gushed straight down our pathway. Somehow we all felt very vigorous, & so good progress was made, although much of the time the man in front of one was obscured by thick bracken. We halted where our pathway joined another, by a pretty little creek. It was an interesting spot. Our track came out of the bracken & joined the other path at a sharp angle. The joined paths went on into the bush in a mysterious sort of way.

We downed packs, & walked through very thick undergrowth to an old viaduct. We were the first people through there for many, many years, & the wood of the viaduct was very rotten. It spanned a deep valley, lined with tree ferns, and then went on into the bush as mysteriously as ever, as if daring one to follow. It was rather awe-inspiring. Close by were whitened trunks, nearly 250 feet high - one expected to see "IN MEMORY OF SIR MOUNTAIN ASH" engraved on their ancient sides; but they just stood there whilst the sky hurried over them, & the bush life went on around them as it has done for centuries.

We returned to our packs, & began a very stiff climb along a valley side. We clambered laboriously over some huge fallen trunks, & then, gaining the head of the valley side, turned to the left, & came upon a deserted mill. Judging by various signs, another hike party had camped there the previous night. We descended into a valley & here rested, drank & ate precious chocolate.

After this rest we were doomed for the stiffest pinch of the whole trip - Mt. Myrtalia. Our hearts bumped our ribs all the way up; muscles groaned; and lungs heaved painfully; and oh! our backs with those devilish packs. The lid dropped off Ian Hay's billy on the way up, & I picked it up. He turned round with a very drawn look on his face, "Gee boy, I'm just about all in", he panted. I was obliged to smile as though it was all great fun; but my effort must have looked almost as frightful as I felt. That big devil of an Ian Lillie must have had the strength of a draught horse, but at last he called a halt.

There wasn't a word; we just flopped down, under a towering mountain ash. It was a wonderful tree; but I took little notice of it - or anything else - for a time; but after a while Cecil's voice woke us. There was only one song he could sing in such a spot, & it sounded indescribable - "Trees." It seemed to pull everybody together, & we soon gained the mountain top & then relaxed, & swung easily into beautiful fern gullies & came to quite the prettiest spot of the trip.

We filled our billies, as water would be hard to get at our camp site - we were to camp at an old deserted guest house, Orchard's, about ¼ mile further on. We didn't take long to reach the old house, & it certainly looked weird. The forest behind it was like a solid semi-circular wall, & already looked lonely & dark in the evening sun. The house looked a substantial place, & everyone rushed in for rooms, but I finally decided to pitch my tent, & leave my pack inside. Most of the chaps pitched their tents, although a few slept inside. We had our usual good campfire after tea, & the Fullarton Rovers treated us to many Gilbert & Sullivan songs. "I am a Pirate King" seemed to be their favourite, & it will always remind me of the hike. As usual we closed at 9.30 with prayers, & then went off to bed at 9-50.

I forgot to record that I went down to the creek from Orchard's & it was certainly a precipitous climb. In the deeps of the valley it seemed sad, & inestimably lonely; & the creek whispered along as if fearing to disturb the rotting undergrowth. Surely this was the abode of Milton's melancholy from Il Penseroso. Ancient tree ferns were rooted in loose brown soil, composed of thousands of years of rotted leaves, & far overhead a wind stirred the leaves to a sound like distant sea. Presently rain came pattering quietly on the leaves, a melancholy rain. I suddenly realised that I wanted to get out of the gloom.

The weather seemed to bode ill for us, & all night I slept lightly, fearing that the wind would tear up my little tent. I would hear it roaring in the depths of the forest & coming closer & closer, till my tent bellied out madly. Had the wind remained where it was when I pitched the tent, things would not have been so bad; anyway, I wasn't blown away.

Wednesday 9th January

I spent most of last night in semi-sleep, & at 6-50 this morning down came rain. In a few jiffies I had my tent down, & drying inside. Plenty of barrack came from Ian, & Les who had slept inside - "knowing what the weather was going to be like." I had enough of their barrack whilst camping with them to do me for many a day; but they are good chaps. As Les says, "Having rows makes a camp", & the Fullarton Rovers were always rowing, in a way that looked quite serious till one got to know them.

We were delayed a long time at Orchard's in the hope that the dismal rain would clear up; but there seemed little hope of it doing so. We cooked our breakfast at various fire places, & had prayers in the big lounge, with its leaf strewn floor, & broken windows. (All night we had heard the ghost-like banging of doors). We were all dressed in preparation for rough weather, & we certainly looked a motley lot. Jim French from the Mallee was dressed like an Arab, with a band from his pack passing over his forehead. I'll bet his head ached. Les had risked coming without a waterproof, but he had a chaff bag over his pack-laden shoulders. I was fixed up perfectly - to my own mind at any rate. I had my sox rolled right down & my shorts right up, & over my shoulders & pack was my cape ground sheet. The pack lent it sufficient pitch to throw off buckets of water, & I even had room beneath it to use my thumbstick. As there appeared to be little chance of the weather breaking, we filed down the few rickety steps & left Orchard's to its lonely forest. It was exhilarating walking in the misty rain, & we joined up with another timber line.

Somewhere on our right we saw, away down in a valley, a deserted hotel, and somewhere else a mill was working far below. John Potter, who was just in front of me, began singing - "a song about a clock". It sounded perfect; each word was distinct in the sharp mountain air, & we swung along silently. The last words rang out, clear as ever, "earn God's well done;" and then the only sound was the clump, clump of our boots on the sleepers.

The Fullarton Rovers were the life of the party. Soon after John's song, the shoulder strap of my pack slipped from its buckle, & I was held up for a few minutes - Lindsay Collins waiting with me. The party had a good lead, & unknown to us, they left the timber line & followed a parallel road. On noticing that their tracks had ceased we cut up to the road, & found that we had gained on them, & so walked back a short way & waited - we could see them resting a little further back, & hailed them. By now it had become quite fine, & here we definitely discarded our waterproofs. A short distance along this road brought us to a shed by the timber line; there we downed our packs & had lunch. I went to a creek to have a shave, forgetting soap & a mirror; & finishing up with a very rough attempt.

We were now due for the climax of the hike; for about 1½ miles further on was one store and a house or two, named Gladysdale. We each had about 10 shillings to spend, & all longed for some real food, so the pace to Gladysdale was a cracker. The Baw Baws, I think, led; & then came we Bogongs, followed, of course, by the Buffaloes. We had to keep our respective places, but it was a job for Ian (Lillie) to control the chaps. We burst into Gladysdale, & here is what Ian, Les & I bought - either between us, or personally: 1 tin sliced pineapple; 1 tin sliced peaches; 2 large blocks of chocolate; 1 smaller block of chocolate; 3 bottles of soft drink; a packet of luncheon wafers; & some dried apricots. We called a long halt, & positively hogged ourselves. The toss determined I would carry the sliced peaches & Les the pineapple - it was extra weight, but it was worth it.

We set off at a very hot pace led by Cecil & the other South Australians. I managed to keep up to the leaders, & by now I was wearing my fly net. About an hour's fast walking brought us to Lloyd's mill - a working mill - close to which we were to camp. There was time for an additional bit of packless walking, & we climbed a high valley side, & then descended to the mill & watched it working. Circular saw working of course was no novelty to me; but the types of men were interesting. There was one silent creature, with dank wisps of hair about his neck, & a bird-like nose. I would not have been surprised to hear him utter animal-like noises in place of human speech; but he only wheeled a tremendous barrow, with an expression like a hunted but faithful dog - not a very highly bred dog.

At knock off time we left the mill, & walked back about 200 yards to our camp. The cooked mutton I had been carrying was stinking; & Les discovered it to be inhabited as well, but for us hungry hikers it made good stew. The sliced pineapple was delicious & we couldn't resist eating the peaches too. We didn't stop there, but ate the dried apricots & afternoon tea wafers; so bang went all our luxuries at once.

Near us John Potter had a fire going & was preparing fish patties. He must have been right on the homeward track of one of the mill's draught horses; the horse came through John's small fire with a clop of its great hoof & put out the fire.

Ian, Les & I decided to sleep on a sloping piece of ground with our heads towards a log & my tent spread over us. The Fullartons pitched their tents close by.

I forgot to mention that a Rover called for our hike mail each evening; but as I was out of stamps, I only sent one letter.

Tonight it was my turn to build our patrol camp fire; others were supposed to help. Anyway I found the skeleton of an old hut, so down it all came, bark roof & everything; plus a coolgardie safe. It made a wonderful fire; with extra logs thrown on too.

As usual we had a very successful fire - our last one together - & we stood in concluding silence for the last time, the creek murmuring in the distance & a beautiful night close about us. The best item was John Potter's rendering of "The Seven Veils".

Thursday 10th January

This morning we got started earlier than usual, as two girls from a neighbouring farm were waiting to guide us to an orchard. Cec soon hopped ahead of Ian (Lillie), & set a hard pace after the girls. I kept well up although I wasn't up to yesterday's standard. Quite suddenly the girls turned up a hill to our right, & on the left was an orchard. "Is this the place?" Cec called out. Evidently they misunderstood him, for they answered "yes". In we all piled, & although only cherry plums were ripe, we fed well. I soon get weary of cherry plums so came out. The rest were ordered out by a girl with a pea rifle! They were in the wrong orchard!

We passed through some very tall timber, & very pretty country. We halted for a while at a working mill. Some hung back to watch a tree felled. Not long after we passed an old deserted house that the millers had adopted, & here we took some lemons from a few trees. After a fairly stiff walk, during which we met another party, we halted at a deserted mill for our last meal together.

For the last time we joked over, & ate our hard bread biscuits, & went down to our last pretty creek to drink - it was the prettiest, I thought, of them all.

Giving the other group a start, we set off for Gilwell. We had not gone very far when Ian Lillie & the leading patrol got too far ahead of we others; so Lindsay Collins came in front to lead us. He cut across country with us, knowing that if he kept going he'd strike a known timber track. It was a stiff walk, through country quite different from the rest we had passed. It was like bayside scrub-land, with more sugar gums and stringy barks & also prickly undergrowth. It was all rooted in gravelly red earth. The sun was unpleasantly hot, & the flies were a fair devil - luckily I had my net. Anyway we caught up to the rest of the group, & after a short rest we set off on the last lap.

We finished on one of our familiar old timber tracks, amid quite pretty scenery, & before entering Gilwell we polished ourselves up. We were supposed to have entered singing "My dog biscuit lies over the ocean" but it fizzled out, & the Fullartons struck up one of their old familiars: "We come from sunny South Aussie".

I was disappointed with Gilwell - I expected more of the tree fern style country. Anyway, we passed the lodge gates & were directed to our camping place. It was rough looking ground.

We sped straight off to the Gilwell pool for a swim. It's a huge pool; but it was freezing & pretty dirty in the water, though of course it was very refreshing.

Just after I left the water I saw B.-P. coming along with Hoadley. B.-P. looked very old; but of course the spirit of him is young. He carried a movie camera, & took photos of some of the boys in swimming. We returned to our camp soon after he left, & dressed. We made a trip to the lodge where Les & Ian had their hat-bands fire branded with a hike badge. As my band is narrow I bought a metal badge. Jamir Modu, ("Jamusy") the popular 51st Bombay Rover was assisting on this job.

We returned to camp, & were given our substantial rations - chops, steak, sliced apricots, bread etc. We ate all our cookable meat for tea, & kept a tin of salmon for tomorrow's breakfast. We decided on not using the tent tonight & just after dark we left for the big final campfire.

We took our places, & watched the entrance of the various hike parties before B.-P. Most of them shouted war cries, or sang songs about dog biscuits. One crowd's war cry was the fast repetition of "maggotty meat, maggotty meat". When everyone was seated Mr. Hoadley announced that he wanted it to be a free & easy, hilarious night that we would remember for the rest of our lives. We certainly should. We shared log seats with our hike parties. The night opened with the singing of "John Brown's Body". A thousand voices, most of them lusty-lunged hikers, sounded marvellous. "John Brown's Body" has surely never sounded so stirring.

It was thrilling, many of the hike parties gave items. Every item was splendid, & many flashlight photos were taken. Opposite the fire from me sat B.-P. on a leopard skin throne, his daughters at his feet. The climax came when three Indian boys – two of them bearded sikhs - gave a song. Suddenly they broke into their, & now our, familiar Jamboree song: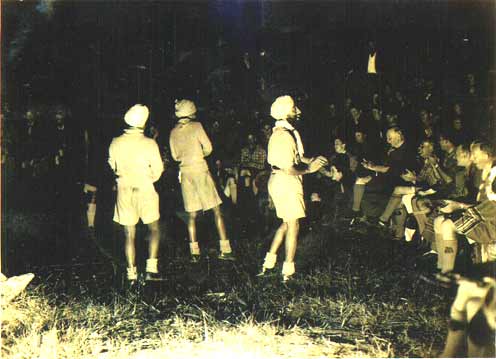 "Pi gy á ba-ba las-si dá Ka-to-ra,
Pi gy á ba-ba las-si dá Ka-to-ra,
Lassi da Ka-to-ra, ba-ba, las-si dá ka-to-ra,
Lassi da Ka-to-ra, ba-ba, las-si dá ka-to-ra."
The fascinating chant was taken up immediately by boys of every nation, each one clapping hands to keep time. It swept back memories of our first sight of the Indians; of learning to know them & hearing their song, then learning it; and many miscellaneous memories of the last happy fortnight. The song died on the dewy night air, & we all seemed to realise how significant it was of international brotherhood.

Not long after this the Chief made his speech. It was inspiring. He told us that this was the best Jamboree he had been to, & he had been to them all. The best, he said, because of the brotherly spirit that prevailed. Before leaving he called for three cheers for His Majesty the King, & then the boys spontaneously cheered the Chief himself. He left the campfire behind him & walked over the hill. It was very sad. Archie Longden started up on "Will ye nae come back again?" It was sadder than ever, for in his speech B.-P. said that he supposed it would be his very last Jamboree.

Soon, however, we sought our camps again, a merry, laughing crowd. It was about 10-30 when we found our spot, & 11-10 when we retired. As reveille was at 4-30, & we wanted a good sleep, we piled on a big fire, & wrapped ourselves in our blankets beside it. As heavy dew was falling, I covered myself with my tent; but Les & Ian couldn't escape a wetting. Just as I was dozing off I heard Cec Lapthorne call out. "So long you Frankston chaps", but I thought he was fooling, & being sleepy I just slept.

Friday 11th January

At 4.30 this morning, perhaps nearer 4.45, there was much shouting, Ian Lillie, & Laurie Christie picked up Les, in his sleeping bag, & tipped him out. By that time I had hopped out already. Sure enough Cec had caught a night bus for Frankston, & was leaving for S.A. today. After our usual break-camp jobs, it was time to leave - 6-30, & so off we went in our old group. I walked to Gembrook with the two remaining Fullartons & we dropped a fair way behind the others. The road was one long stream of hikers, & the walk was none too pleasant in my estimation. At last we reached Gembrook & had to say goodbyes to the interstate boys who left at 8-30. (It was 4 miles from Gilwell to Gembrook, I forgot to mention). It was a sad parting, but I have some addresses of different favourites.

The narrow gauge train was composed of compartments like miniature cattle trucks, & after soft drinks in the township, off we went, home bound. It was then 8-50. Dr. de Molnar, some Indians & I think some United Kingdomites, were in our cattle truck. It was a humorous two-hour trip. The train was drawn by a queer creature of an engine that looked like a panting mouse scurrying backwards. Les & Ian rode most of the way on the outside step - picking up flowers by the rail side. I saw one chap's singlet hanging out the window to dry. We passed through Belgrave, close to old Sherbrooke forest.

Dave Boyd left the train at Tecoma where his people are staying. The train was going at its normal speed; or not far off it, when he hopped off. One chap fell off somewhere, or jumped off, & as he couldn't catch the train as easily as he thought, it pulled up for him. At Ferntree Gully we changed into an electric special to Frankston, & travelled 1st class - scarcely a second class carriage was occupied. At Flinders Street, a crowd of boys joined hands & sang "Auld Lang Syne." On the way to Frankston we all felt sleepy and several of us slept soundly. At Frankston we tramped off home.

Saturday 12th January

Naturally enough I didn't rise until 10-00. I was soon back into my uniform & off to the Rover Moot. It was held in the old H.Q. buildings, & B.-P. opened proceedings & handed the Chair (not literally) to Lt. Col. Granville Walton. He is the Imperial H.Q. Commissioner for Rovers, & a very big man - in all ways I believe. He opened the Moot in a very breezy & decisive way. De Saram, Chief Commissioner for Ceylon, sketched Rovering in his country. There were speakers from many other countries: India (Com. Hogg, Hungary (Dr. de Molnar), Malaya, Belgium, South Africa, & Canada. A Queenslander read a paper on "The Meaning of Rover Service".

Les & Ian were camped for the Moot. I was given a ride into Frankston on the back of a Rover's motor bike. Many of them at the Jamboree had motor bikes, & they were certainly speedsters - "those mad Rovers", was often said in pitying tones by onlookers. This chap certainly travelled some. (I mused for sometime over trying to get to Sweden for a Rover Moot in 1936, then going on to England). It would be a good year in England for the King's Silver Jubilee. I want to hike (or bike) round England - a part of both preferably - & write a book some day.

Sunday 13th January

Up at 8-00, & left by bike at 9-55 with a neighbour, Geo. who was dinking me. We had a very fine Scouts Own. The singing of the assembled Rovers was magnificent.

It was noticeable that everything was from the Old Testament, & the address was given by a fine looking & well known Jewish Rabbi, Rev J. Danglow M.A. It was an excellent address. "Rovering helps to make a finer churchman, & the church a finer Rover" he said - or similar words.

I was sorry when the service was over; but we had more interesting talks from various countries. After a tedious sitting (on the floor) we broke off for dinner. Geo. & I rode home, & on the way our fixed wheel bike practically got out of control on the hill down from the Jamboree site. After dinner we rode back, & were a little late. However we heard B.-P.'s farewell speech.

It was splendid; but towards the close he was very close to breaking down. "God speed you all in your efforts" were, I think, his last words. We all joined hands, & sang "Auld Lang Syne". I was next to Mr Game during the singing - I think he's General Secretary in Britain. Then we all trooped outside. There were many exchanges of addresses, & many, many goodbyes.

The hike leaders filed before B.-P. My last glimpse of B.-P. was through the back of his Rolls - just his face & waving hand. I do hope I'll see him again. It is a pity he can't live much longer; but I bet there will be plenty of his old friends in the next life, & plenty of Scouts too.

I walked round the old camps for the last time. They looked so sad & lonely in their quietness. We climbed the old tower, & lo the canvas city was gone - gone all over Australia, & far overseas. Goodbye for ever I suppose. Oh well, Lindsay Collins was with me. We went to our Indians, & the county presented them with our Union Jack. Goodbye India. I saw the South Africans & a Canadian packing up too. There was nothing to do now, but leave camp for the last time. On the way out I ordered some photos from the camp photographer. One is of this morning's group.

We went on home, this time for good. Our dream is all over - & it happened in Frankston!