1935 Australian Jamboree
The Local Scouts

Mornington County
(Sub-camp 4E)
Local plans for the Jamboree took place early in 1934. By August, the Mornington County Scout Council was able to release participation details for the six sub-groups attending the Jamboree:


1st Frankston - 22


2nd Frankston - 26


3rd Frankston - 20


1st Mornington - 11 & 1st Somerville - 11


1st Tyabb - 9, 1st Dromana - 8 & 1st Flinders - 6


1st Hastings - 8, 2nd Hastings - 5 & 1st Cowes - 10.



The Mornington Country campsite was chosen and laid out by J. Stevens (SM, 3rd Frankston). In establishing this camp, a high standard was set.

The entrance was made of bush timber. It featured the painting of a huge seagull in flight (the county emblem). Below, an enormous boomerang spanned the arch and the words "Mornington County" were outlined in tea-tree across its length. The area was fenced and a tea-tree hedge erected. A substantial log cabin was constructed on the site. The camp's flagpole was a pine sapling, 50 feet high.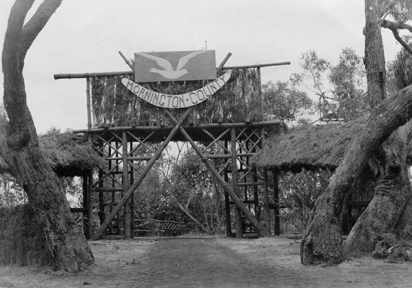 Paths of red gravel were put down. A pond, with a rock fountain and a bronze statuette ("The Jamboree Scout" by Paul Montford) adorned the garden. The cultivated grounds included palms, petunias and hydrangeas.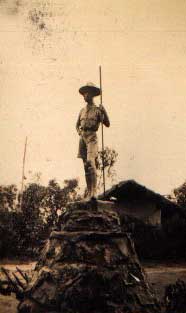 The Frankston and Somerville Standard, 21st December, 1934, describes garden preparations as follows:

"Desperate efforts are being made to hasten the growth of plants in the garden which has been arranged in the centre of the section. One plot is in the form of a seagull in flight and another is that of the fleur-de-lis."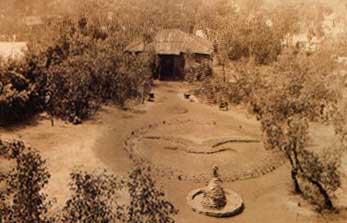 An extensive display of native fauna had been proposed for the site, however, accounts written during the Jamboree would suggest that this plan was not fully realised: an aviary containing budgerigars and an opossum was placed near the entrance. County exhibits were on display within thatched structures astride the entrance gate.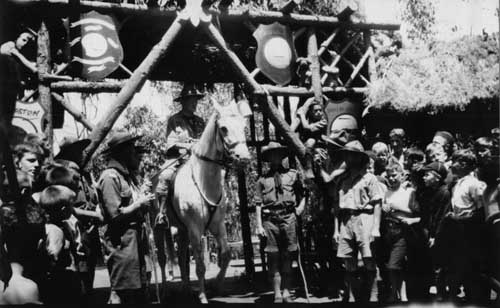 Lord Baden-Powell enters the Mornington County campsite.


The County's enthusiasm was not confined to the establishment of a camp. They produced a most interesting pageant, "The Pilgrimage of Youth." The Frankston and Somerville Standard, 25th August, 1934, outlines the part to be played by the individual Troops.


Scene 1 - Prehistoric Youth: 2nd Frankston


Scene 2 - Grecian Youth: 1st & 2nd Hastings


Scene 3 - Norse Youth: 1st Somerville


Scene 4 - Medieval Youth: 1st Dromana


Scene 5 - Renaissance Youth: 1st Frankston


Scene 6 - Age of Exploration: 1st Tyabb


Scene 7 - Modern Youth: 3rd Frankston



For the local scouts, participation in Jamboree activities was in sharp contrast to the hikes which had previously taken place in this normally remote area.