The above warning is not shown on most vehicles instrument panels, yet if it were, could save the owner from possibly having to spend many thousands of dollars rebuilding an engine that over heated, simply due to a reduction in the volume of coolant.

If we look at either a diesel engine or a petrol engine as used in modern vehicles, we find that it doesn't take the loss of very much coolant, before we start to develop serious over heating problems. To make matters worse, this can all occur without showing any change in the vehicles temperature gauge. In fact, the gauge may actually show a reduction in temperature, as it is designed to run fully immersed in coolant, and not simply warm air !

Many people think that because they get their vehicle serviced frequently that they don't have to worry about the various fluids under the bonnet, as they are all checked at service, and besides the existing sensors will pickup the problem. This philosophy couldn't be further from the truth. Let's examine some simple scenario's:


1. The vehicle has had a comprehensive service, including back flushing the radiator.Unfortunately the top radiator hose wasn't fully tightened, and has a minor leak. The vehicle is road tested prior to being given back to its owner and everything appears fine. Driving home in traffic, with the AC going, the driver is unaware of a small leak coming from the top hose. He arrives home and garages the car as normal. The next morning everything appears normal and he drives to work, and again the slow leak from the top hose reduces further the amount of coolant in his engine. Later that day when driving home in heavy traffic everything appears normal until the engine appears to loose power. Initially the temperature is normal, maybe slightly cooler, then all of a sudden it races into the red zone as the engine looses power. Too late to do anything else but pull over and wait to be recovered.

Problem: Since the mornings drive the coolant level is below its critical level, and the engine has started to over heat at its highest point (the aluminium head) and serious damage has started to occur as the vehicle was driven.


2. Every Friday night you check under the bonnet of your 300Tdi Discovery to make sure everything is correct before you go away for your weekend 4wd trip. As usual, everything looks good, which is just as well as you have a long drive in front of you. Heading off you are unaware that a $9.00 gasket, called the pistol gasket, is about to wreck your weekend and bank balance. 200 km into your trip you are parked on the side of the road with an over heated engine. You wait 30 mins or so, and when you restart it, enormous bubbles are coming out of the coolant reservoir, and the whole engine is "running" rough.

Problem: The pistol gasket had broken down and you were loosing a very small amount of coolant.Eventually there was no coolant running through the head, temperature gauge reading normal, and due to the over heating you now have a warped head and inoperable head gasket.


The above scenario's are based on real events, and in both cases, a low coolant sensor alarm, would have alerted the driver to a problem in time for preventative measures to have been taken, and avert the expensive consequences.


The obvious preventative measure is to identify that the coolant is low, and once the engine has cooled sufficiently, identify the problem if possible, and add more coolant or water. In the case of a large volume leak this may not be possible and the vehicle may need to be recovered to a workshop for repair. This early warning will, in most cases, prevent more serious and more expensive damage from occurring.


Reduction in the coolant level can be caused by a wide range of factors, including such things as
minor or major damage to radiator core by stones, sticks etc
leakage from coolant hoses due to aging or fatigue
leakage from water pump seals
leakage from expansion or reservoir coolant tank (most are plastic these days)
leakage due to failure of head gasket
failure of radiator cap allowing coolant to be dumped into overflow
neglect, resulting in failure to check coolant levels
over-reliance in technology provided by manufacturer of the car, and besides who looks under the bonnet these days anyway?
This is just a short list of some of the possible problem areas that would benefit from the fitting of a low coolant sensor alarm.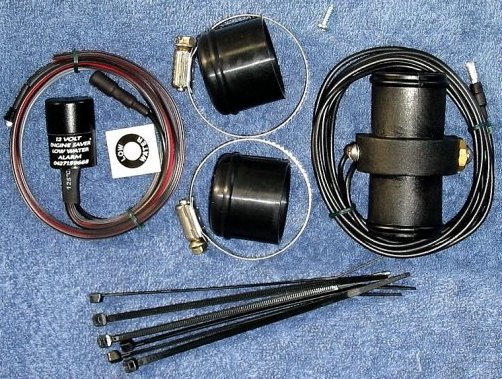 Engine SaverŪ is an Australian designed and built low coolant sensor and alarm that gives an audible signal when it detects a reduction in the coolant volume. This early warning enables the driver to address the problem almost immediately it is detected.
---
©Copyright YiCaN 2000-2007